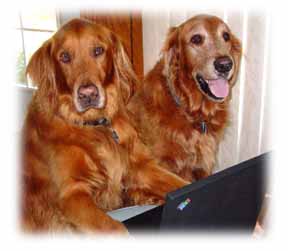 SIDECAR #02 - March 2004
If you're a dog - and I am - there's nothing better than hanging your head out of a car window. Or, at least, that's what I thought until I rode in a Harley-Davidson sidecar. Woof!
Now, Max and I have our own sidecars, a safety harness to keep us secure, and the coolest dog goggles that you've ever seen. Man - I mean Dog - we are turning heads everywhere as we roar down the highway with our noses in the air and our tongues hanging out. We are definitely Bad To the Bone.
I know it's been a while since I had the chance to write to you, but we've been pretty busy. We had our photos taken for several magazine and newsletter articles a few weeks ago and, just last week, our local TV station - WRAL TV 5 - spent two hours talking with our owners and filming us riding in our sidecars for an upcoming segment on the evening news. Heck, we're almost celebrities, right up there with Lassie and Benji.
As soon as we hear the deep rumble of our owner's Harley-Davidson motorcycles, Max and I jump into the sidecars and put on our goggles. Have you ever been hit by a bug moving at 60 mph? I have and I don't want one hitting my eyes, so Max and I wear those goggles to protect our eyes from any flying dirt or bugs. And when we're zooming around town, I pretend that I'm the Red Baron chasing that silly Snoopy all over town.
We go everywhere in our sidecars. Last week, we drove through a town that I could really sink my teeth into: Barbecue, North Carolina. I didn't see any places that sold barbecue sandwiches, but I sure smelled some good home cooking. We've been to Raleigh several times and people smile, laugh and wave as they pass us on the roads. When we stop, we get even more attention. Everyone comes by to see us and oftentimes they take a picture of us. But my most favorite place to go is the bank drive through; they give me two dog biscuits with every visit. This motorcycle stuff is great!
The really neat thing about our riding is that we're about to go all the way across America, through all lower-48 states. Maybe, we'll pass through your town. And even more important than all the fun we're having is that we're making this trip so we can help millions of Americans with disabilities.
Did you know that specially trained dogs, called Guide Dogs, can help a blind person find their way around a city street? There are also dogs that can help people who can't hear by alerting them when the phone rings or when the fire alarm is ringing. Just imagine if you couldn't hear a fire alarm - these dogs could save your life. And for people who have to use a wheelchair or can't use their arms because of an injury or illness, specially trained dogs can open doors, turn on lights and even push the elevator buttons. Those dogs are called Assistance Dogs and many know more than 60 commands. That sure beats the few commands like sit and stay that Max and I know.
So, Max and I are crisscrossing the country this summer to help people learn more about these Guide and Assistance Dogs. And we're raising money so that people with disabilities can have their own specially trained dog to help them lead more independent lives. Our ride begins in Raleigh, North Carolina on May 1st and will last until the end of November, more than 25,000 miles in just seven months. Keep your eyes out for us and we'll hope to see you when we pass through your town.
Until then, be cool in school and help us spread the word about the great work that Guide and Assistance Dogs do for people with disabilities. We're counting on your help.